DVACK began as a grassroots organization led by concerned community members in Salina, Kansas that recognized a need for services for survivors of domestic and sexual violence. We were incorporated in 1980 and have since grown into the agency we are today, serving 10 counties in North-Central Kansas.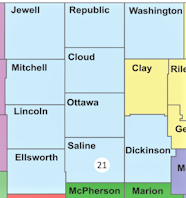 We have offices located in Salina and Concordia as well as a confidential, safe-shelter in Salina, Kansas.
We proudly serve Cloud, Dickinson, Ellsworth, Jewell, Lincoln, Mitchell, Ottawa, Republic, Saline & Washington Counties.
DVACK provides FREE, VOLUNTARY & CONFIDENTIAL support services to primary and secondary survivors of domestic violence, sexual assault, stalking, teen dating violence, elder abuse & human trafficking.
We work from a victim-centered, trauma-informed approach providing immediate and on-going direct support services. It is the goal of DVACK to provide physical, mental and emotional support for individuals who are or have been in an abusive situation. DVACK is a place for all survivors regardless of gender, race, religion, age, sexual orientation, disability or criminal status to receive support with the utmost dignity and compassion. We believe that all individuals have the right to live a life free of abuse, and our doors remain open 24-hours a day to help those individuals fleeing from violence. Our advocates are available 24-hours a day, 7 days a week. It is our job to remain apprised of trauma-informed care and resources so that we may effectively assist you in your healing journey. Whether you need someone to listen or you are in crisis we are here for you to provide HOPE, EMPOWER you, and assist you as you HEAL.
In addition to survivor service, DVACK staff conduct a multitude of educational presentations and trainings to various community organizations, agencies, businesses, civic groups and individuals in an effort to raise awareness and educate on the dynamics domestic violence, sexual assault, stalking, human trafficking, teen dating violence and elder abuse.
Who We Are
SALINA OFFICE
If you need to contact a staff member, click on their name and it will bring up an email address.
OUTREACH STAFF
SHELTER STAFF
CONCORDIA OFFICE
BOARD OF DIRECTORS
Sister Dorothy Marquez, President
Harley Hamilton, Vice President
Richard Buck, Treasurer
Jessica Kootz, Secretary
Heidi Brown
Steven Kimmi
Tammy Lockhart
Jenna Norton
If you are interested in becoming a member of the DVACK Board, please contact Andrea Quill, CEO, at (785) 827-5862.