Festival of Trees
Join Us!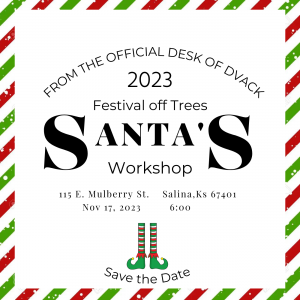 Reserve your tickets online today!
The Festival of Trees Fundraiser is held annually to aid the Domestic Violence Association of Central Kansas in its mission to protect and keep safe the families that fall victim to domestic and sexual violence in our community.
One of DVACK's families shares their story:
Amidst the horrors of human trafficking, DVACK emerged as a beacon of hope for a family that dared to escape their nightmarish past. With the unwavering support of DVACK, this family found refuge, safety, and a chance to rebuild their lives. Guided by compassionate hands, they received essential resources, counseling, and legal aid to heal their wounds and mend their shattered spirits. Step by step, they embarked on a journey towards empowerment and self-reliance, as DVACK provided them with opportunities to acquire new skills and gain financial independence. Surrounded by a network of caring professionals and survivors, they discovered that they were not alone in their struggles. As they gradually pieced their lives together, DVACK became their sanctuary, a place where they could embrace a future filled with hope, resilience, and newfound strength.
~ R Family. —DVACK family
There are several ways YOU can help
make this year's event another SUCCESS and help us continue to serve individuals like The R Family.!
Attend the event with your friends, family, or business,
Become an event sponsor,
Contribute a silent auction item,
Decorate a beautiful Christmas tree or lit wreath,
and much, much more!
Learn more HERE!