DOMESTIC VIOLENCE
According to the latest KBI Statistics Report, in 2016
A Domestic Violence Homicide Occurred
EVERY 19.2 DAYS
* * *
A Domestic Violence Incident Occurred
EVERY 22 minutes 48 seconds

YOU ARE NOT ALONE!

Perpetrators use a combination of tactics
to gain power & control over a victim. Batterers, and ONLY BATTERERS, are responsible for their actions.
The victim is NEVER to BLAME.
So what is domestic violence?
Although some believe one must lay a hand on someone for domestic violence to occur, this is not the case. Domestic violence is much more than black eyes, bruises, and broken bones. Domestic violence is emotional; psychological; mental; verbal; financial; the use of coercion, threats, and fear; sexual and physical violence... and much more.
Domestic violence is
NOT AN ANGER ISSUE
! In fact it is quite the opposite; it is calculated, controlled, and directed to his or her chosen victim. Domestic violence is the attempt to gain
POWER
and
CONTROL
over another and is grounded in
ENTITLEMENT
. Batterers batterer because they feel entitled to have power and control over another.
Abuse is any controlling, hurtful act, word, or gesture that injures anotherís body or emotions.
If that is what domestic violence is,
why are there not more arrests?
The legal definition stated in Kansas Statute is directed towards the threat or use of physical violence; however, we recognize that domestic violence encompasses many other tactics utilized to gain power and control over another. It is not uncommon for domestic violence to begin with smaller red flags and tactics, such as isolation and emotional abuse, and escalate to varying degrees of physical violence.
Click here to see the Power and Control Wheel and learn about commonly used tactics.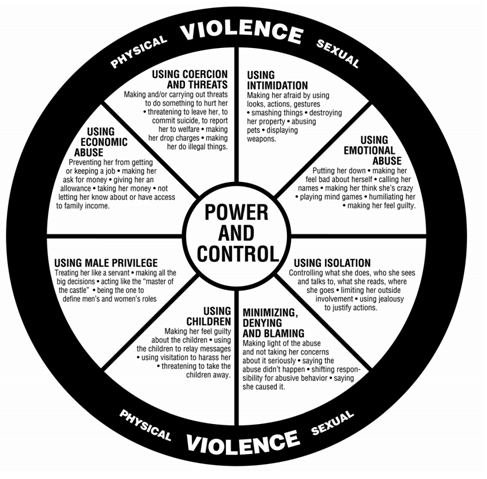 For more information visit our informational brochures page.